March 24, 2017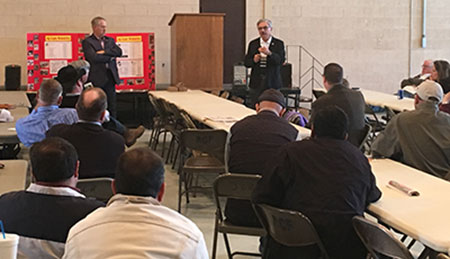 The first of a series of listening sessions with New Mexico State University's College of Agricultural, Consumer and Environmental Sciences Dean Rolando Flores and New Mexico Secretary of Agriculture Jeff Witte was held in conjunction with the New Mexico Ag Expo on March 24 in Portales.

The session allowed agricultural producers, and those with an interest in agriculture, to talk to and ask questions to the Dean and Secretary.

Some common themes during the listening session were:

Communication/Education
Public Perception
What can be done to tell the story of agriculture? People at the session expressed concerns about the negative public perception that exists about agriculture and the lack of knowledge people have about what growers endure. There was also interest in looking at how agriculture contributes to the state's economy.
Middle School Agricultural Resources
Teachers for 7-9th grade students, expressed the need for textbooks that capture the economic impacts of agriculture.
Genetically Modifies Organism (GMO)
At the session, people spoke about the need for educating the general public about GMOs, in particular the need to dispel the myths.
Farm Bill
Given the little understanding there is about the percentage of the farm bill that goes to the producers (20%) and to fund welfare programs (80%), producers at the session asked how they could ensure that the farm bill will address their needs? They would like to know who is representing them as USDA drafts the next bill?

Agricultural Experiment Stations
What is the future of supplying applied research to NM?  There was discussion on the benefits of applied research for the state, how much is needed by industry, and how the different locations around state were valuable because of the type of research they did.  For more information on the topic, visit ACES Advisory Team.

Dean Flores and New Mexico Secretary of Agriculture Jeff Witte addressed the questions and concerns issued by participants of the listening session.